Canadian Food Influencers We Love to Follow
A Province by Province Guide
We live and breathe all things food here at BYU.  Skimming food porn on Instagram, #foodtrend chats on Twitter, watching hours of How to Cake it on Youtube.  Truth be told, it's all just a part of the job over here.  While there are many, many incredible food influencers in the Canadian market, we wanted to take a moment to share our top picks, province by province.  Each month we update our list, so be sure to check back often.
---
Contents:
1. Ontario
2. Nova Scotia
3. Quebec
4. British Columbia
5. Alberta
6. Manitoba
---
Ontario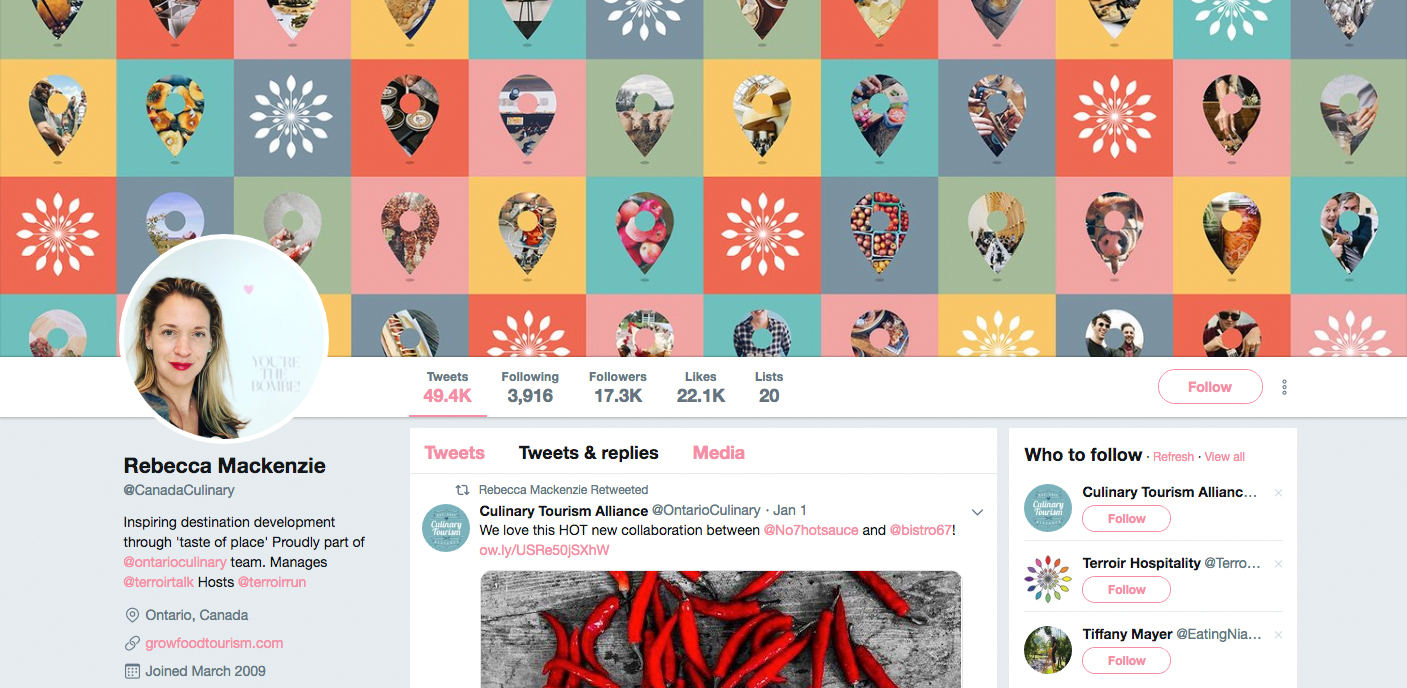 Eating local, food tourism and "taste of place" are all trends we continue to see throughout the industry and Rebecca Mackenzie is a driving force behind it here in Canada.  As the CEO of Ontario Culinary and Senior Consultant of Grow Food Tourism, Rebecca has helped developed award winning programs including Prince Edward County's Taste Trail and CTA's Feast On.  On social media you can find her on Twitter sharing the latest trends, food tourism events or even recommendations on where to get the best burger in Ontario.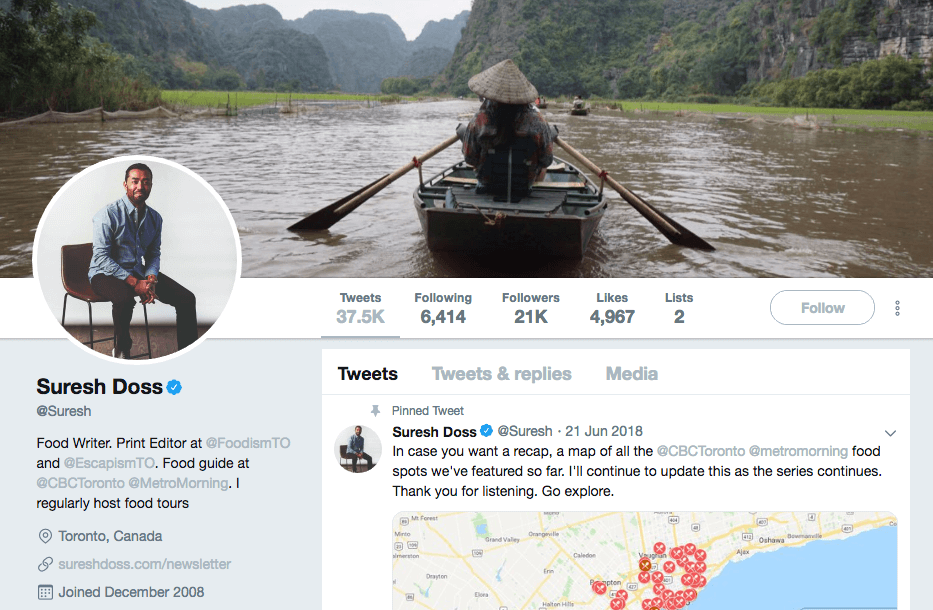 Whether it's hosting events, consulting, speaking or creating content, Suresh Doss is helping Torontonians discover new foods and uncovering local joints worth trying.  Starting this spring, Doss stars in Culinary Suburbia – a exploration of cultural pockets throughout the GTA and the incredible cuisine it has to offer. He's essentially our very own version of "You Gotta Eat Here!", uncovering everything worth discovering on a local level.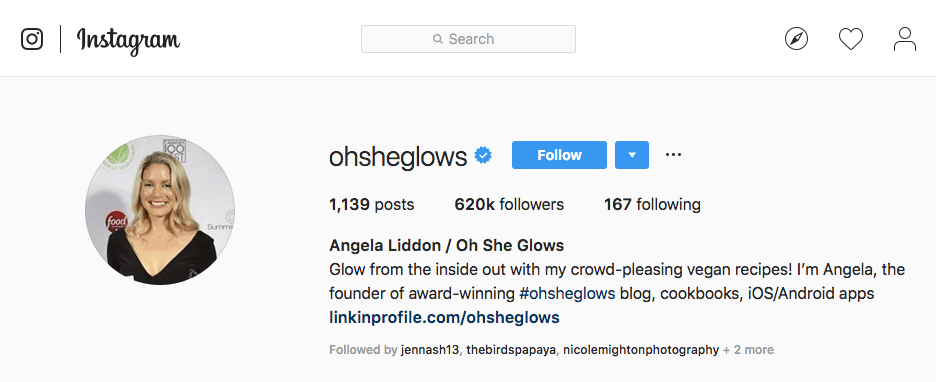 With over a million followers on social media, we're not sure any foodie must-follow list would be complete without @OhSheGlows.  From blog to cookbooks to apps, Angela Liddon has taken her vegan recipes to the masses.  She's a Canadian success story, especially when it comes to social media, having grown a loyal following all over the world.   She makes quinoa, kale and chia come to life in drool worthy recipes.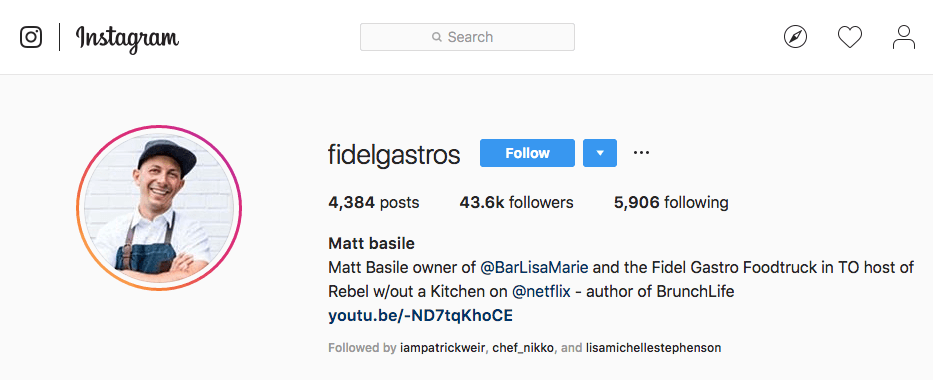 We're big believers on having a niche, especially when it comes to content.  Matt Basile, CEO/Chef at Fidel Gastro's seems to share the same outlook.  His niche?  All things street food.  Matt operates one of Canada's most recognizable food trucks and a street-food inspired cicchetti bar, Lisa Marie.  He's the bestselling author of two cookbooks Street Food Diaries and most recently Brunch Life.  Online you can find him everywhere – from creating branded content to hosting YouTube cooking shows like Chefs in Cars Getting Takeout.

Who knew baking cakes could turn in to must-watch content?  Yolanda Gampp, from How to Cake It, knew how to take her cake construction talent and turn it into a brand of its own.  Her #howtocakeit concept has extended beyond social content to books,  online events  and even her own line of products sold through her ecommerce store.  She's collaborated with brands throughout the years including Fingerlings, Google and Cadbury.
Nova Scotia

Photographer, food stylist and writer Jessica Emin has been delighting her followers for years with her incredible eye for deliciousness.  This Halifax based influencer brings an east coast flare to a lot of her content – highlighting the incredible food and wine scene on the coast.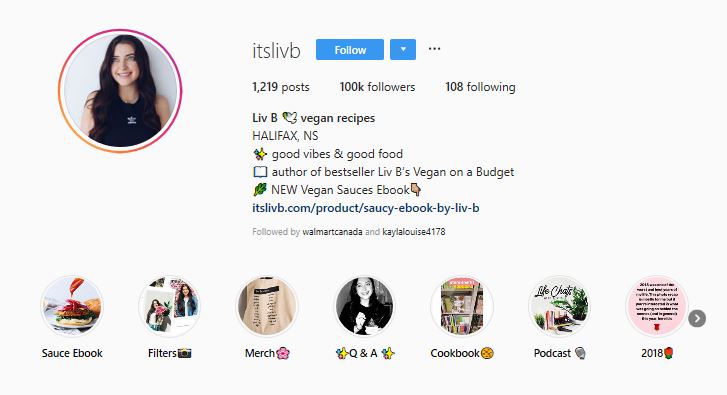 Olivia is a true social media powerhouse. She's a Halifax based Youtuber, podcaster, and writer (she even has a cookbook) who focuses on easy vegan food.  While much of her online content is vegan related, she does capture a wider audience through her positive and inspirational lifestyle messaging.  In a short span of time she's amassed over 642k followers on Youtube and over 101K followers on Instagram.  Olivia is an influencer to keep your eyes on!
Quebec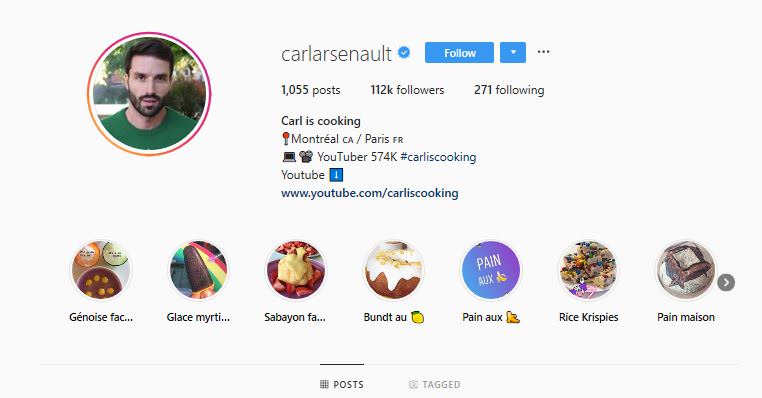 Montreal based food influencer Carl from Carl is Cooking focuses his content on "everything that revolves around food".  His eye-catching Instagram feed is bright and colourful, bringing a fun spin to his food presentation.  Carl clearly has a passion for pastry, so it comes as no surprise that he was a finalist on the popular show "Best Pastry Chef".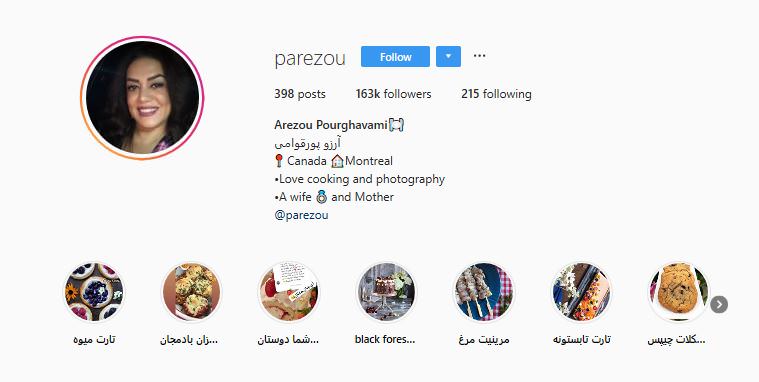 Arezou is one of our favorite influencers to follow because everything she creates is rich, full of detail and incredibly lavish.  Her 83K+ followers keep coming back for tabletop inspiration – her tabletop photography is often her top engaging content month over month.
British Columbia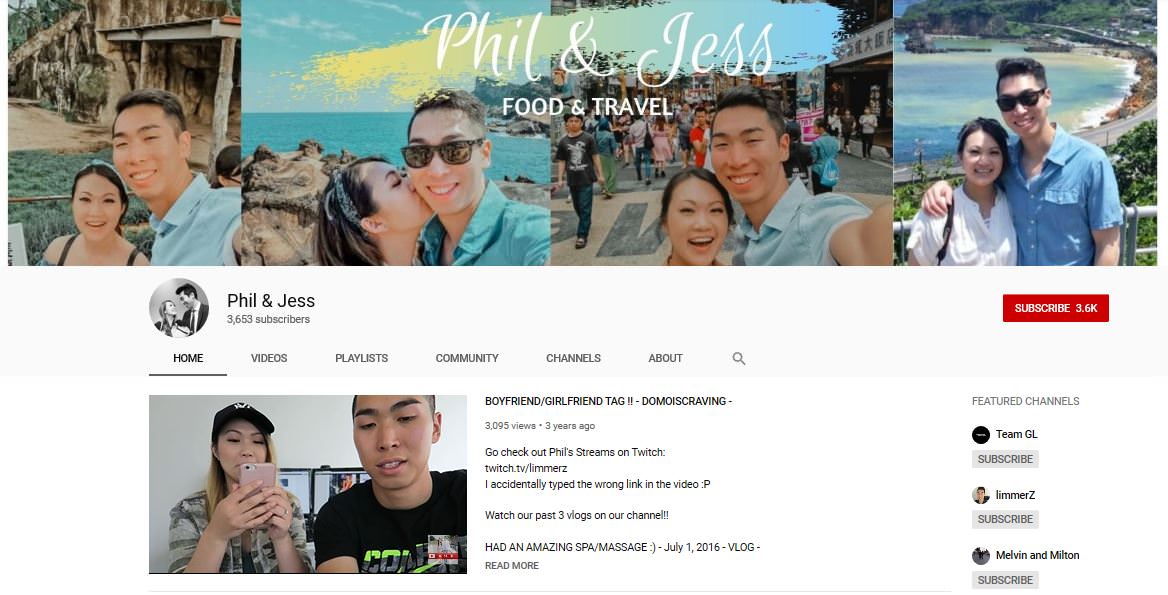 "Millennial Food Influencer" is a term we often see on client briefs.  Phil & Jess fit the description perfectly.  This young Vancouver based foodie couple create content for YouTube and Instagram.  Their food content focuses on the best eats throughout their worldly travels – brought to you through mouth-watering imagery and behind the scenes vlog-style content.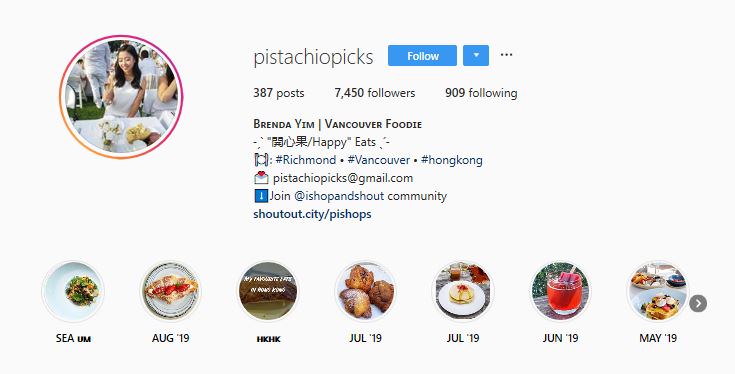 If you love getting a deeper story behind the food you're eating, Brenda of Pistachio Picks delivers.  Her information rich content is informative and more detailed than most Insta-food posts.  Her content showcases a passion for a wide variety of food styles – everything from noodles and bubble tea to mac and cheese and burgers.  Brenda's love of photography also means everything looks as delish as it sounds.
Alberta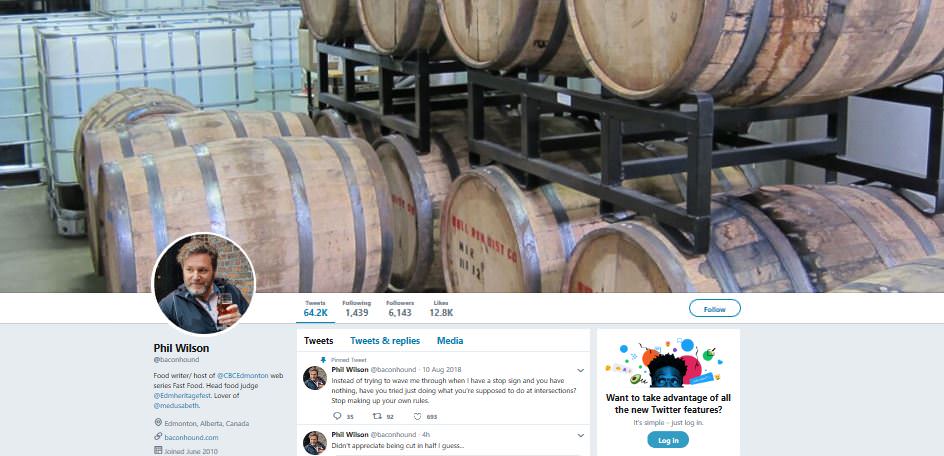 Known online as "Baconhound", Phil is an award winning Edmonton food writer and Twitter personality. He's also the host of CBC Edmonton web series Fast Food.  His style?  Everything comfort food.  As Phil describes it to FBC "food that makes you feel good, like a hug from Mom".  You can find Baconhound content through his blog, Twitter of Pinterest pages.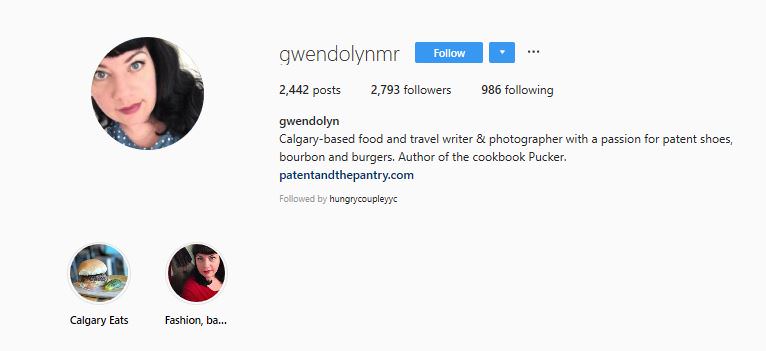 Gwendolyn is a Calgary-based food and travel writer and photographer whose recipes are showcased in the Calgary Herald.   Her cookbook, Pucker, features the best citrus recipes from drinks to dinner however her social feed shows her true passion for burgers and bourbon (and shoes!).
Manitoba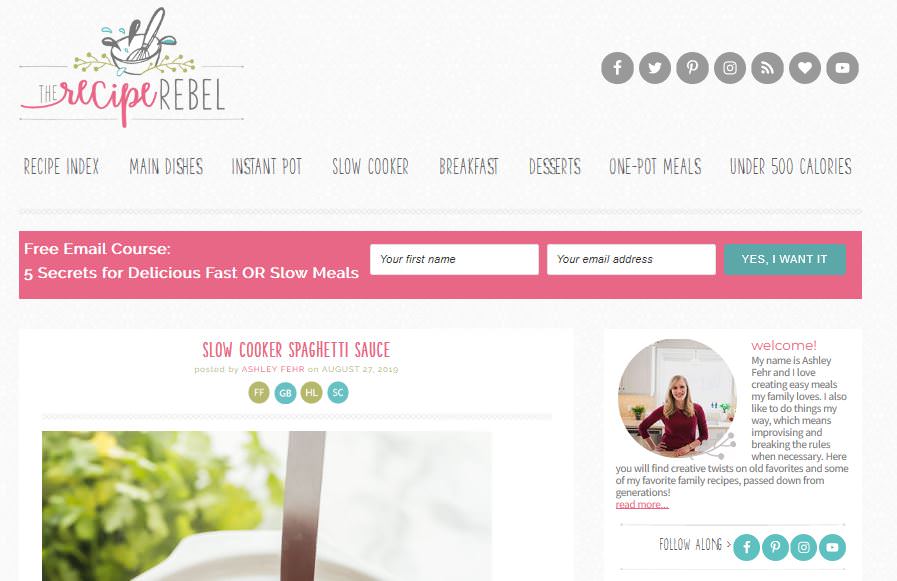 Never one for following the directions, Ashely has created an online food-brand focused on doing thing her way.  What started as a recipe blog has expanded to Instagram, Pinterest and YouTube.  Her food content focuses on recipes that are no fuss and minimal (perfect for families, just like hers).  One of our favs?  Her Cookie Dough Ice Cream Cake.  Wow.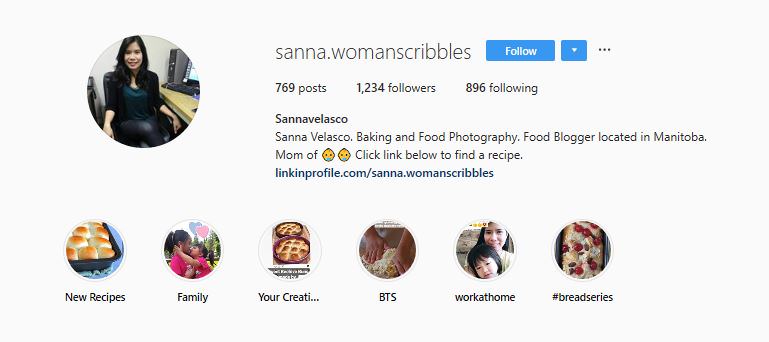 For over 7 years, Sanna from Woman Scribbles has been sharing her love of baking with her followers. What's interesting about Sanna is that she started by baking cakes from a box and over the years she has learned new techniques and recipes – we love how she has documented this journey online. Now that she's raising two young children, Sanna also focuses on anything that is fast, healthy and delicious.
There's no shortage of incredible Canadian talent cooking up great content across social media.  Be sure to check back next month as we continue to highlight some of our favourites.
Looking to keep up with the latest trends in the Food & Beverage industry? Connect with Bob's Your Uncle today.